The Marantz NR 1711 is a slimline 7.2 channel AV receiver that packs a punch despite its compact size. It is the successor to the popular NR 1710 and is designed to deliver high-quality sound and video performance while being easy to use.
Overall, the Marantz NR 1711 is an excellent AV receiver that offers impressive sound and video quality, a wide range of connectivity options, and user-friendly design. It's a great choice for anyone looking for a high-quality receiver that won't take up too much space in their home entertainment system.
Design:
The NR 1711 is a beautifully designed receiver, with a sleek and modern aesthetic that will blend in with any home entertainment system. At only 4.1 inches tall, it's slim enough to fit in tight spaces but still powerful enough to provide high-quality sound and video performance.
Connectivity:
The NR 1711 has an impressive array of connectivity options, including 8 HDMI inputs, 2 outputs, and support for the latest HDMI 2.1 specifications. It also includes a range of analog and digital inputs, including phono, USB, and Bluetooth, making it easy to connect all your favorite devices.
Sound Quality:
Marantz is known for their excellent sound quality, and the NR 1711 lives up to this reputation. It features advanced audio processing technology and supports a range of high-resolution audio formats, including Dolby Atmos and DTS:X. The receiver also includes Audyssey MultEQ room calibration, which automatically adjusts the sound to your room's acoustics, ensuring an optimal listening experience.
Video Quality:
The NR 1711 is a 4K Ultra HD receiver, which means it supports the latest 4K resolution and HDR formats. It also includes advanced video processing technology, which enhances the image quality of lower-resolution content, so even standard definition content looks great on your 4K TV.
Ease of Use:
One of the standout features of the NR 1711 is how easy it is to use. Marantz's on-screen setup assistant guides you through the setup process, making it easy to get started. The receiver also includes a user-friendly remote control and is compatible with the Marantz smartphone app, which allows you to control the receiver from your phone.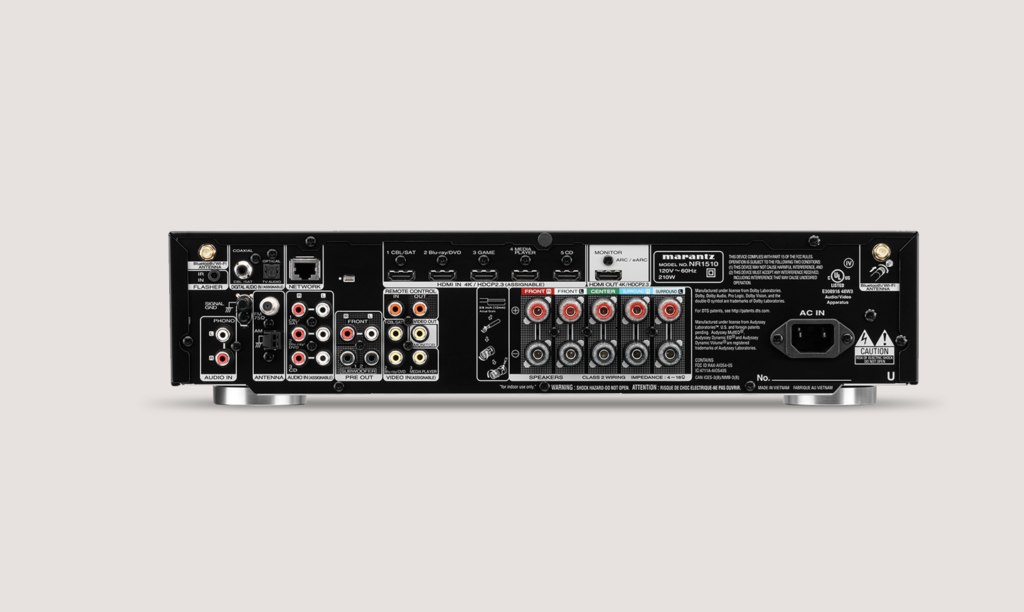 Where to Buy
If you're interested in purchasing the Marantz NR 1711, you can buy it on the trusted website TimesAudio. They offer a wide range of audio and video equipment and have a reputation for providing excellent customer service.
Alternatively, if you prefer to buy from a Marantz dealer in India, here are the contact details for one of their authorized dealers:
Name: Electronic Services
Address: 1324 1st Floor Sector 46, Gurgaon India 122003
Phone: +91-124-4084924, +91 9313235774
Email: parasher.s95@gmail.com
*They offer free shipping across India*
It's always a good idea to purchase from an authorized dealer to ensure you're getting a genuine product and to have access to manufacturer warranty and support.
After Sale Service & Support
If you purchase the Marantz NR 1711, you can rest assured that you'll receive service and support from Authorized service centers in case of any issues. Marantz has a network of authorized service centers across India, where you can get your receiver repaired or serviced if needed.
In case your receiver is out of warranty, you can also contact Electronic Services, a well-known provider of hi-end AV services. They are known for their expertise in repairing and servicing high-end audio and video equipment and have a team of highly trained technicians who can help you with any issues you might encounter. They use genuine parts and have a reputation for providing fast and reliable service, making them a great choice for anyone looking for top-notch service and support for their audio and video equipment.
Marantz service center gurgaon, delhi